Your Invited to take part in all the FAB new things going on at Booty Parlor!
Wed April 28th 8pm Nationwide!
Join us for our 1st ever webinar opportunity call, from the comfort of your cell, home or laptop! Multitaskers WELCOME!!
You're invited..

… to learn more about Booty Parlor's Sexy Revolution, and the Booty Parlor Parties business opportunity from Co-founder and Sexy Lifestyle Expert, Dana B. Myers!

Don't miss this informative call to learn about earning a fabulous income with one of America's fastest growing sexy beauty and lifestyle brands!

With an award winning collection of Romantic Treats, Seductive Beauty, Bedroom Accessories and Frisky Lingerie, Booty Parlor has everything to boost a woman's sexy self-confidence, both in and out of the bedroom.

The Booty Parlor party experience is fun and fabulous. Joining Booty Parlor is an easy-to-operate, flexible and profitable business opportunity for today's entrepreneurial woman. Join us this week to find out more

Date:  April 28th, 2010

Time: 8:00 pm CST

Hosted by: Co-founder Dana B. Myers

Conference Call Number:  1-605-475-4850

Attendee Access Code: 959813#

Webinar Location: Visit here to listen and see Dana LIVE!

Guests have the option of joining via their computers (at the link above) or by calling in. If joining via phone, please introduce yourself at the beginning, and then press *6 to mute and un-mute your line to keep the call clear
Friday May 14th 7:30pm Omni Houston Galleria Hotel
Join us at Encounter Booty Parlor Houston!  Contact me to RSVP, guests welcome!

July 16th-17th* Long Beach, California
for those of you who choose to join Booty Parlor's Sexy Revolution & make money as Sexy Lifestyle Advisors!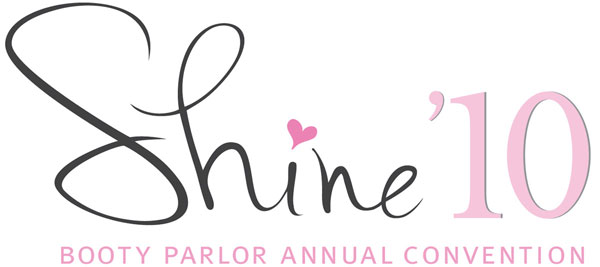 Founders Charlie and Dana B. Myers and General Manager Linnette Reindel cordially invite you to our Second Annual Convention, Shine '10!
Join us July 16th & 17th, Long Beach California, for some great Booty Parlor events! * Booty Parlor Cafe * Welcome Reception * Training Classes * Profesional Photo Shots  *  Rise & Shine Breakfast * See & Sample the NEW Fall products * Awards & Recognition Dinner
Start & Launch your Sexy New Biz & you could even get EXTRA SPENDING CASH for Shine 20 10 as well as $150 towards your airfare!!  Ask me more, or join our Sexy Revolution!
*****
If you only want to do some sexy shopping, awesome & thanks! YOU are helping our Sexy Revolution!
Mothers Day is just around the corner, get your mom something to make her feel sexy & special again! gift her our Flirty Little Secret, a few Kissaholic Lip Gloss or even a relaxing Bubble Bath!
..be sure to share this with a fabulous friend who would LOVE some extra cash or Free Booty Parlor gifts!